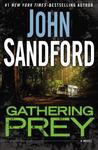 Gathering Prey by John Sandford
My rating: 2 of 5 stars
Listening to this while reading The Secret Place was…instructive.
I'm not at all sure why I downloaded this book–the 25th in a series. I think it landed on a list recommended to me as a strong example of a crime/thriller novel published fairly recently.
I had started out enjoying the book and paying particular attention to its cinematic set-up. The POV is distanced, giving the words and movements of various characters as needed to advance the story, like the role of the camera in a action movie. As a writer who struggles with the constrictions of close perspectives, this was refreshing at first, but it eventually left me missing some flavor.
The action was dry and methodical–good guy vs bad guy, making moves that, to do the book some justice, make perfect sense and feel logical and as true to life as you'd want in fiction. The motives behind the action, however, were one note. The emotional evolution of the characters–especially of the bad guys–almost completely absent. Compared to my most recent read (Secret Place), which could almost to be said to have too much interiority, Gathering Prey had almost none.
These books are of different sub-genres, to be sure, but it reaffirmed my love of the psychological and literary branch of mysteries and thrillers. It's plot was real-feeling, but its characters flat.
If it's ever made into a movie with a great cast that can give me some of that depth I missed in the text, I'd totally watch it, but I think that's my last Sandford unless someone wants to recommend a different title.